Part 1, Part 2, Part 3, Part 4, Part 5
By this time it was getting terribly late for an unfed wonderer, inexperienced photographer, and uncouth loiterer on main street. But I was determined to find as many Presidents as I could and at least see if they had a copy of Jesus and John Wayne on them…
In a short moment, I stumbled upon Dwight Eisenhower, oddly dressed as a police officer. I noticed at a copy of the book in his arm, exchanged glances, and kept walking.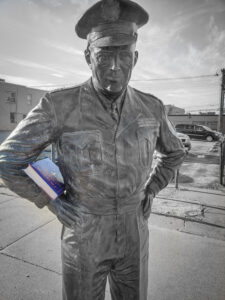 John F Kennedy had his hands full with some children's toys, and the book (was he reading it to his children?)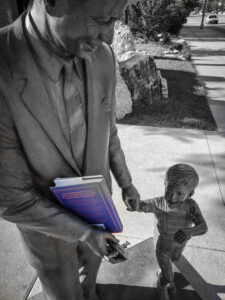 Lyndon B. Johnson also had the book, and wasn't at all happy about what he was reading…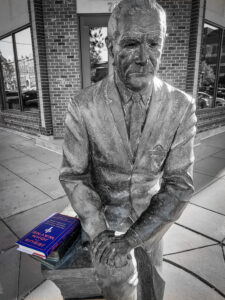 Richard Nixon had an even more foreboding posture towards the book (what on earth was he plotting now?)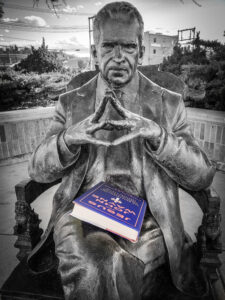 Gerald Ford was chilling with his dog while reading the book, and returned the glance with a slight and curious grin…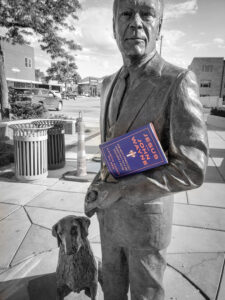 Jimmy Carter apparently loved the book, actively speaking about Jesus and John Wayne while holding two other smashing (and equally disturbing) books on similar subjects: Elaine Storkey's Scars Across Humanity and Julie Ingersoll's Evangelical Women. This President was apparently serious about women's equality in society…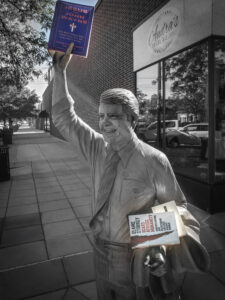 Oddly enough, even Ronald Reagan was found with the book outside Tally's Restaurant. I really don't know why.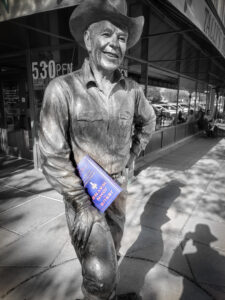 A block away stood George Bush Sr., not prioritizing the book over other things as with Carter, but he possessed the book, nevertheless. (Why next to a globe? What else was he holding? So many questions…)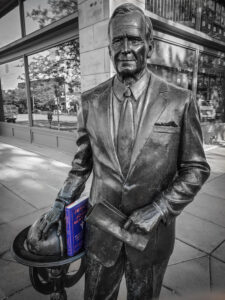 "What this really means for men and women is…" and I won't repeat the rest out of embarrassment, but Bill Clinton, well, wasn't being honest, and couldn't seem to get his mind out of the gutter…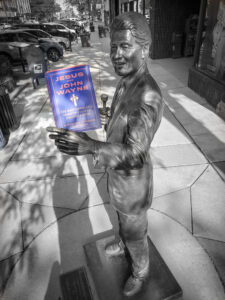 George W. Bush was on his way to the airport when I called out to him, "Hey, so how was it? The book, I mean!" He looked over, gave me the thumbs up, and said nothing. His dog was forced to prop Jesus and John Wayne on its head while the President continued his stroll. Poor dog!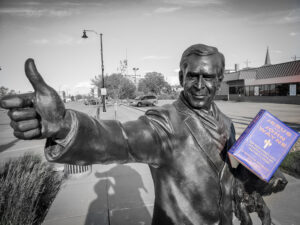 Then I found Obama—the last President I could find. He was walking with his daughter and holding up the book firmly and positively with a moderate smile on his face. "A fitting end to a long journey," I sighed.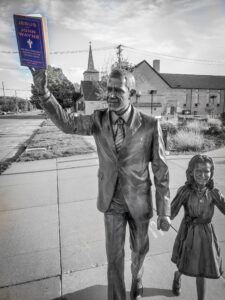 I couldn't find President Donald Trump anywhere, or Joe Biden for that matter. I would honestly be surprised if either had touched the surface of a book in the last 3/4 of their lives, but I've learned by this point not to make such judgments (my internal "c'mon man!" kicks in to humble my "nobody knows Jesus and John Wayne like me…covfefe")
I've learned much from these encounters with America's Presidents, and about the sensitive subject of power, masculinity, and religious authority. This stigma and unspeakable subject is surely a reason why Jesus and John Wayne became such a fanatical success: it was time for an honest, public look at it (and from a female scholar, all the more needed). But whatever the case, I can confirm by first-hand eye-witness testimony that the vast majority of American Presidents have, in fact, read the book.