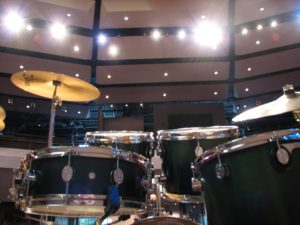 Story
I didn't really have a choice. My older brother had learned guitar and seemed hellbent on becoming a rockstar. But he needed a band, and every band needs a drummer. So there I was, barely able to read, though apparently old enough to start a career in percussion.
In 1995, we won a local talent show playing "Stairway to Heaven." No nearby chairs were low enough to accommodate my seven-year old legs, so I ended up playing mostly standing up. It was a bit nerve-racking. The bass drum was sliding away from me on the slick wood floor, I could hardly see any faces in the dark, stage-lit school auditorium, but I knew I was being watched by the biggest audience I'd ever been in front of.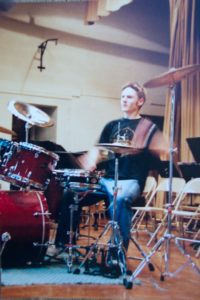 "Stepping down" to snare and bass at school after learning set before third grade obviously felt like a drag. But I hadn't yet learned to read music (which seemed intimidating). So there was always something to learn before finally playing the much envied "pep-band" in high school. There was also awkward crash cymbals to master, cowbells and triangles, and terribly sophisticated bells and chimes. 6th grade concert band was altogether a riot, playing "Needle in a Haystack" as fast as possible just to be silly, and carelessly ruining timpani heads with the wrong mallets. At home in my room upstairs, I played along with Stryper on cassette tapes and punk banks like 311 on a gray 5-piece Ludwig with two Sabian cymbals and a Paiste hi-hat. I ended up taking snare lessons at public school all the way into second-year college, though I never had or gained any real confidence sight-reading. More unfortunately, I never learned piano like the rest of my older siblings. It's one of my greatest regrets in life.
High school brought new challenges and more fun—marching band, larger concert band performances, pep-band, jazz band, and a pit-band for swing choir. Each venue brought troves of good memories—despite spending countless Saturdays in detention for insubordination to our poor music teacher(s). Highlights of this period included playing on-stage in Branson Missouri for swing choir, making South Dakota All-State Jazz Band (2003) playing pep-band at basketball tournaments in the "worlds-only Corn Palace," and doing a small gig at Boys State alongside Buddy-Rich Band trumpet master Grant Manhart, who urged me to become one of his college students and join him on tours.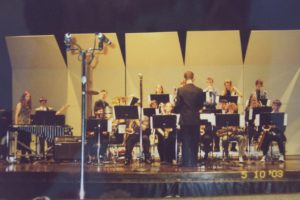 Sometime during my freshman-sophomore year of highschool, however, I experienced the musical revolution I needed most. Brent Steinert was teaching a required musical-appreciation course when he played a video of the 1989 Buddy Rich Memorial Scholarship Concert in Los Angeles featuring Louis Bellson, Gregg Bissonette, and Dennis Chambers. Like countless others, I was utterly spellbound—both at the videos of Buddy Rich himself, and the concert, where each unique drummer played two songs with the renowned Buddy-Rich band, followed by trio "drum battles" of trading-off riffs. Buddy Rich was inhumanly fast, and I realized I needed to learn traditional left-hand grip. However, it was Chambers who left the deepest impression.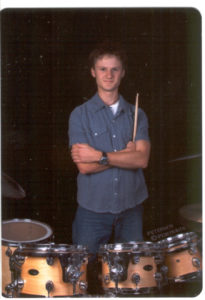 As I watched ("watched"?) Dennis play ("play"?) Dancing Men and Sister Sadie – and especially the in-rhythm solo of the former – I felt as if something had reached into my ear, located my soul, and gripped it with the force of an angry gorilla and just wouldn't let go. No human's arms were capable of moving this way. No human's feet were capable of moving this way. And how could his feet be in one rhythmic world while his arms were in a completely another? How was it possible to hit underneath and above cymbals with one arm as fast as a single-stroke roll? Seven toms fully utilized? Ad hoc triple-kicks at full tempo, apparently just because? I was completely undone, dumbfounded, shocked. I sat trembling in my chair, struggling just to breath as the VHS film rolled on for eternity. That day, I went home a different person.
I approached my drums again with a subtle awkwardness and glanced at the instruments in front of me with a new set of eyes. There was a choice I had to make: throw my sticks away forever, or throw away all that I had learned and accomplished up to that point and start over, venturing into a new world and humbling myself as much as necessary to move on. I chose the latter (or rather, it  chose me).
The transformation that followed consisted of the following:
Traditional grip. If all the pros could do it, why couldn't (or shouldn't) I?
Hi-hat independence, a total re-wiring of muscle memory and…however those neurons thought they were supposed to be communicating. I needed to separate my limbs musically and mentally and create multiple musicians within a single consciousness.
Choking up the cash for a double-bass pedal, with countless hours of cursing my left foot's incompetence (…as I still do today).
Planning and obtaining all new gear – eventually a maple Pacific 7 piece with new Zildjian cymbals and coated Evans heads.

Dave Weckl's kit

Discovering the art and science of arrangement. Clearly there were inefficient and efficient ways of arranging the drumset. I first copied Chambers and then began to discover patterns across some of the greats. I obsessed over the height, tilt, and geography of each element, until my body became one with the instrument.
Intense imitation of the most unnatural songs and unfamiliar genres that I could.
This was no longer about fun, or asserting an identity as a non-jock in high school, nor was it (ever) about competition or "being the best"; it was about pushing the limits of possibility out of pure curiosity and self-scrutiny, and enjoying whatever fruits followed.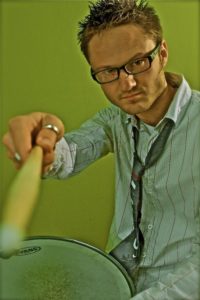 I was prepared for college level music and went to Dordt University on three scholarships (one of them for music)—still managing to sheepishly (cowardly?) avoid the challenge of piano, bells, and xylophone. I would not have gone there without their music program, but instead gone to Northern State University to become a full-time musician under Manhart. But to everyone's puzzlement, I chose to study…theology. But it wasn't that difficult in some ways. Playing the same set of songs on a cruise ship day after day, week after week while living in cramped corners just didn't sound like a desirable life-long career. (And how would I have time to read books?) Thankfully, for being a small private liberal arts college in the middle of the cornfields, college years at Dordt were as enriching as I could have asked for: concert band, chamber orchestra, jazz band, and Northwest Iowa Symphony Orchestra (NISO). I also played at a dozen or so different churches (witnessing every manner of sound board and time-keeping chaos imaginable). Ultimately, however, with the corrections of others, I finally subdued bad habits in volume control (less is more), got into more reading, and explored new genres. Most importantly were the mandatory lessons (for keeping scholarship), which in my case pushed rudimental drumming. Paradiddles and its variants carved out new ways of approaching everything, though at the time I slogged through each page largely as a duty.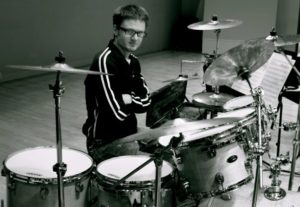 In 2006, we did a concert tour with a dozen or so performances in Eastern Europe (Romania, Austria, and Hungry). In 2008, we did a Jazz tour from British Columbia to Denver, where I finally got familiar with standards in jazz, latin and some funk. Our director (Robert Horton) was one of the greatest organists in the world who also apparently knew a thing or two about the trombone. Henry Duitman was our director for everything else, and always kept us on task. North of Huron South Dakota, I did some small gigs and recording with my percussionist/guitarist/pianist/farmer friend and colleague Brandon Wipf ("Berlin State Radio" was our combo; we both appreciate our German heritage). Back in Iowa, I got to perform alongside David Gluck (Rhythm and Brass) during NISO and even do a little drum battle with him in the BJ Haan Auditorium. By this time, I was giving lessons to others, some just getting started, some trying to take things to the next level. I also won the local Guitar Center Drum-Off in 2007. We were told to do whatever we wanted within 3 minutes, and then be judged. I hated every second of it, and I went in with no plan. But after "winning," and moved on to the regional contest in Saint Paul, MN, and saw some real performers and some real competitiveness. I didn't do well, but didn't feel too bad; the whole framework of the tournament was largely misguided (even the winners felt the same way).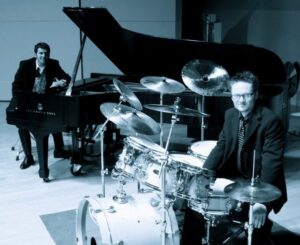 After college, I was severed from community like so many others in that phase of life and went back to the solitude of bedroom play-alongs—this time, with videos on YouTube designed for percussionists and a fresh variety of new artists. I also caught up on electronic music—Sasha, DeadMau5, Paul Oakenfold, BT, Kaskade, etc., along with random artists like Red, Indelible Grace, Mutemath, The Bad Plus, Pillar, Sufjan Stevens, Bonerama, which expanded my rhythmic and musical horizons. Lester Estelle Jr. taught me a new style of rock that was unique and powerful, Big Phat Band perfectionist and advanced jazz, while Dave Weckle taught me to master triplet layers and syncopation of multiple time-signatures.
And then seemingly at random, I wandered into the Tinder Box cigar shop in downtown Rapid City and hear a jazz guitarist like no other. Soon enough, I was part of Charles Carey's jazz combo "Count It Off," playing almost every weekend at various gigs with some of his students from Chadron State College, jazz standards in and out, sharing solos, and pure bliss in a low key environment. I got a second cheap drumset from a guy on Ellsworth Airforce Base just for the project. But then Charles moved back to Miami from whence he first emerged. Another phase behind me.
That was years ago. Back to the bedroom— and with new discoveries: Larnell Lewis, Anika Nilles, Nate Smith, etc., and in electronic, John Hopkins, Miss Monique, Hidden Orchestra, Helios, Luttrell, Ben Böhmer, Hybrid, Trentemøller, Nick Muir, Guy J, William Orbit, Mrs. Jinx, etc. I've come a long way, but am still struggling to master double-bass paradiddles, awkward latin stuff, and still haven't been able imitate the brilliant weirdness of And Here We Test Our Powers of Observation (The Bad Plus). Have I reached my peak? Well, whatever the case, I'm glad plenty of drummers have maintained their skills at 70 and beyond, so hopefully there's much ahead to be experienced.
While I still miss live regular performances, I am starting something new I've wanted to do for years: share some of the my favorite grooves and artists on a quality YouTube channel, Jammin Jamin. While I love teaching, there's already great teachers and projects out there like Mike Johnston, Drumeo, and others.
Influences
Buddy Rich
Dennis Chambers
Carter Beauford
Steve Gadd
Chad Sexton
Darren Charles King
Lester Estelle Jr.
Bernie Dresel
Stanton Moore
Dave Weckl
Larnell Lewis
Nate Smith